By Terapeak, on October 29, 2009
Some more exciting news out of Terapeak-land this week! On Monday, we launched Terapeak Keywords, a free application available exclusively on the eBay Selling Manager platform. It works much like a simplified version of our Title Builder tool, which Terapeak subscribers should already be familiar with. We're hoping it's a way for new sellers and Terapeak beginners to get a feel for eBay research, before committing to the full-scale product.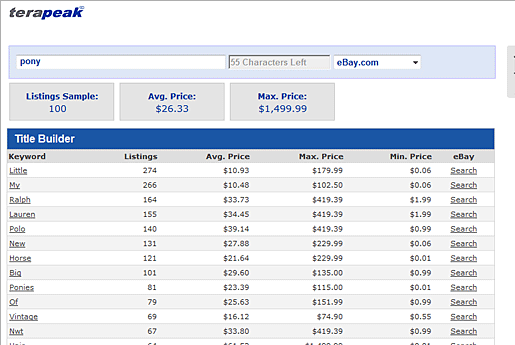 Each free Terapeak Keywords search gives you:
20 suggested keywords, related to your search
Average, maximum and minimum prices for each suggested keyword
A self-refreshing suggestions list as you select additional keywords
The ability to build your title until you've exhausted all 55 characters
All data based on 100 recently-closed eBay listings
... because as all experienced eBay sellers (and Terapeak users!) should know, the first step to creating a
great
listing is coming up with a
great
title. And that means making
all
55 characters count. To add Terapeak Keywords to your Selling Manager Applications, visit the
Selling applications directory
. Remember, you must also be a Selling Manager or Selling Manager Pro user.
comments powered by

Disqus