Terapeak leads first wave of eBay Selling Manager Applications!
Posted by Terapeak on August 17, 2009
Some big news coming out of eBay this morning: today, August 17th, eBay unleashes its first stable of Selling Manager Applications... and guess who's leading the charge! Some quick background for those who need it: eBay Selling Manager Applications is a new platform initiated by eBay wherein users can subscribe to and access applications directly on the eBay site, via their My eBay page. Billing will be facilitated by eBay itself, while each application performs exactly as if it were hosted by its parent site. Below is a (blurry) shot of Terapeak working its magic under the Applications tab of a My eBay page: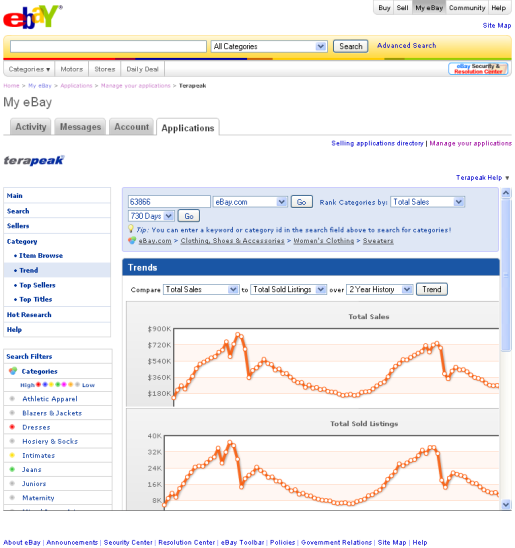 The SMApps project has long been in the works, and Terapeak was thrilled to be selected last year as one of the first participants for this new platform. As you know, we're extremely passionate about helping sellers with their eBay research, and landing directly on the eBay platform will open our application to many additional sellers. For those of you who subscribe via the Terapeak.com site, rest assured that nothing will change with regards to your subscription or the way customer service and billing are handled. All that's different is that Terapeak continues to grow, and with each step taken we'll be better able to serve you! Big high fives to the Terapeak team!
comments powered by

Disqus