By Terapeak, on June 15, 2009
If you're a long-time Terapeak subscriber and/or blog reader, you'll know we've had a keen interest in iPhones since the first 3G models were released last summer. It wasn't hard to predict then that the device would become an instant eBay superstar, and so the Terapeak iPhone index became the very first in our collection of Terapeak indexes. Fast forward to a week ago yesterday, when Apple dropped the price of its entry-level iPhone to $99 USD, and many began wondering how in-store price cuts would affect eBay sales. Well, as you can see below, the immediate reaction has been anything but slow: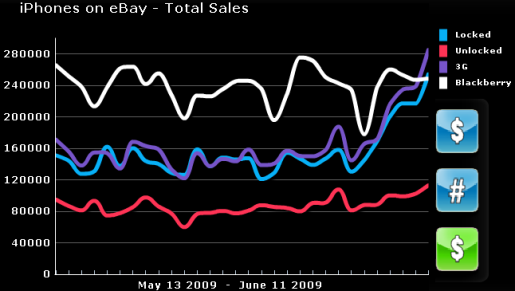 The above image, of course, was captured using the Terapeak iPhone index, which we'll surely be following in the coming weeks, and shows an incredible spike in both 3G and Locked iPhone total sales. You can also track iPhone (and Blackberry) sales using the index's companion widget, as seen below:And one last point of interest, as mentioned in the previously-linked-to Metro article: Apple has also unveiled its 3GS iPhone -- a supposedly faster, more expensive model that records video -- and will begin selling those later this month. Suffice to say, Apple and the iPhone folks aren't dropping off the eBay radar anytime soon!
comments powered by

Disqus