Always a hot topic among eBay sellers is how to optimize keyword choices when building listings. With that in mind, the Terapeak team is constantly looking at ways to enhance and develop its keyword research, and has this week launched an improvement to the existing Title Builder tool. For those who don't know, Title Builder helps subscribers build effective titles using a smart-search algorithm that pulls the top recurring keywords associated with an initial keyword entered into a search bar. And whereas this search formerly sampled 400 listings,
it now draws from 1,000
, for greater breadth of keyword research. Since value can be gauged in a number of ways, depending on the item, Title Builder results tell you not only the frequency of shared listings, but also the average, maximum and minimum prices associated with each keyword. By choosing appropriate, high value keywords, sellers are far more likely to draw buyer traffic toward their listings.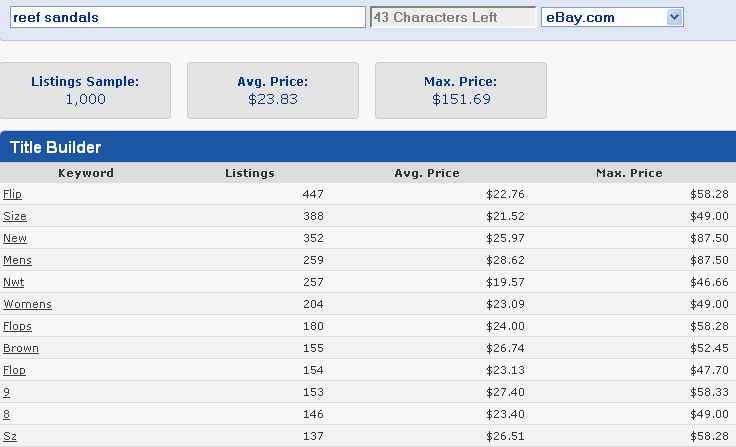 (Click on image to see larger version)
As an example of how you might use the Title Builder, imagine you're selling a pair of
Reef Sandals
(kind of like the image above!). Obviously you'll want to include sizing information, but look at the distinction between "
Size
" and "
Sz
" -- on average, "
Sz
" as a keyword is worth nearly five dollars more! (Not to mention it requires fewer characters.) Additionally, if the sandals are a new product, you'll want to include that information -- but observe the difference between "
New
" and "
NWT
" ("New with tags"): while 25% of sellers will use "
NWT
", it's actually worth six dollars less than simply stating "
New
." These are just a few examples of how important keyword optimization can be, and now, thanks to Terapeak's recent advancements to Title Builder, we hope you benefit from many, many more!